It features dynamic performance and studio controls, including a high quality 61-note keyboard with aftertouch, 16 RGB backlit pads, 9 faders, 9 rotary knobs, and dedicated DAW and transport controls. Its huge connectivity also includes CV / Gate outputs, so you can take command of outboard synth and Eurorack modules with ease. Factor in the amazing included software, and you've just found your ideal creative companion for the studio and stage.
Every version of KeyLab MkII also offers 16 RGB-backlit, multi-function performance pads which can be used in a huge variety of ways, whatever suits your performance style or studio needs best. Trigger custom chords, activate samples, quickly switch user maps, KeyLab MkII puts the "control" firmly back into "controller".
A gateway to software, KeyLab MkII features 9 rotary encoders, 9 faders, and a selection of fully assignable buttons to give you unfettered access to your virtual instruments, effects, and recording environment. Send and receive CV / gate data to bridge the gap between modular and MIDI, with a fully customizable setup.
To allow for maximum expression, and to put that unmistakable "human touch" into your music, KeyLab MkII features multiple expression pedal inputs, that can be assigned to whatever parameters you desire in your DAW or virtual instruments, and sports robust, luxurious machined metal pitch and mod wheels. Truly a live-performers dream!
Amazingly versatile, hugely expressive, and geared up to enhance your creativity and workflow wherever your music takes you.
Expression doesn't just come down to features and functions, it can be how you choose to express yourself, too.
KeyLab MkII comes in both black and white options, and in 49 and 61-key versions, so whatever your studio aesthetic or size preference, Arturia have you covered.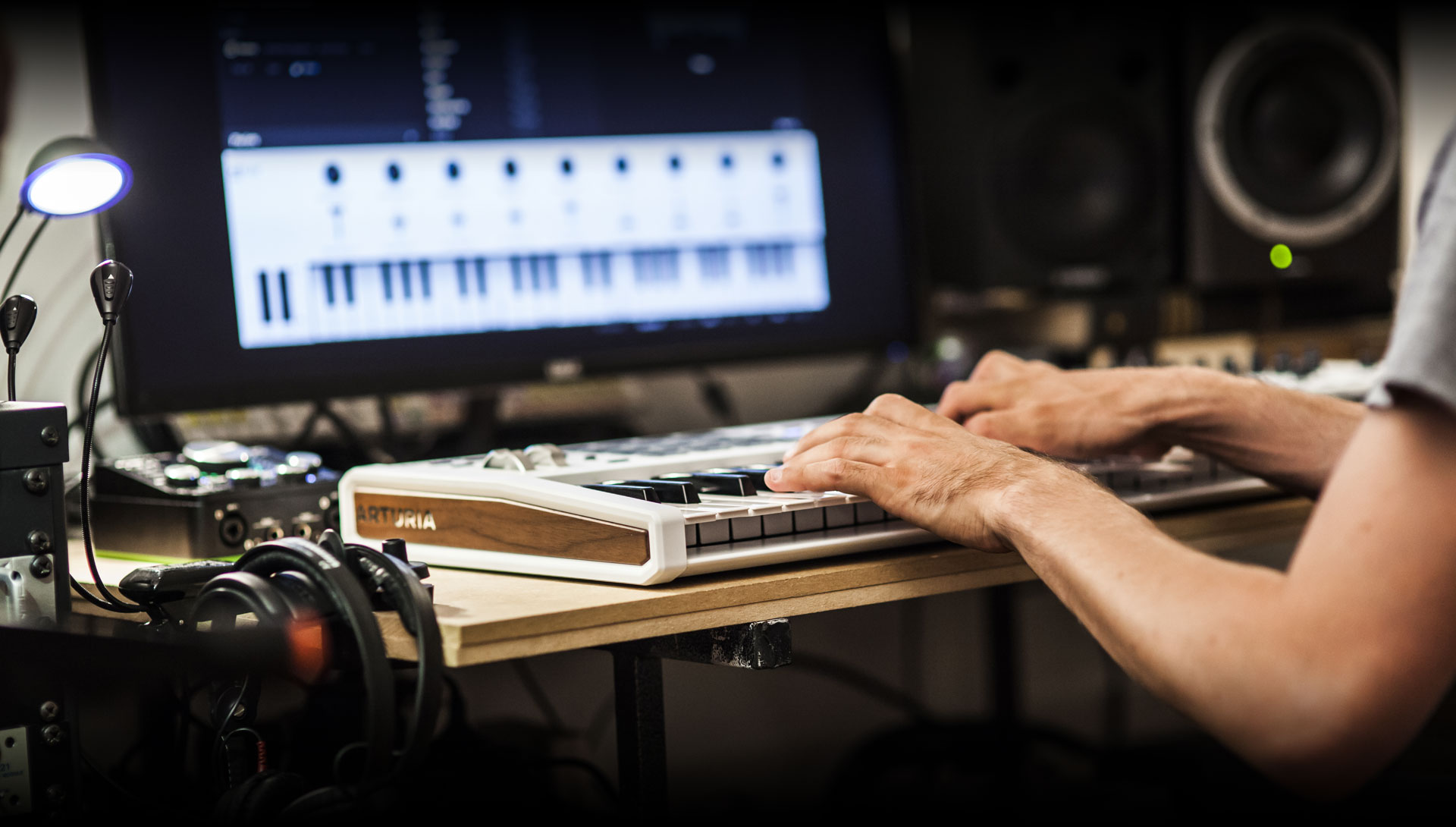 Designed from the ground up to make you the master of your MIDI environment, KeyLab MkII is one of the most flexible, adaptable, and customizable controllers ever devised.
1. Performance controls Multi-purpose dynamic, back-lit pads also let you select your favorite mapping options or trigger chords and chord memories.
2. DAW command center Take control of your recording software thanks to the MCU/HUI protocol.
3. Intuitive browser Twin-line LCD display & jog wheel let you easily navigate your sounds.
4. MIDI channel select Quickly change MIDI channels with dedicated control.
5. Performance controls Bend your notes, modulate your sounds and transpose your keyboard by semitones or full octaves.
6. Chord play Quickly create full arrangements with intelligent chord feature.
7. 61 note Keyboard Durable, velocity and pressuresensitive keys will capture every nuance of your performance.
8. Rotary knobs & faders – Adjust pan and level 8 channels at a time. – Quickly access the main instrument parameters in Analog Lab.
9. CV outputs Control CV gear such as a Eurorack system.
10. MIDI in and out Control any MIDI-compatible instruments and devices.
11. Controls/Pedals Sustain, Expression and Aux pedal inputs. CV input.
12. USB connectivity Bus-powered, class-compliant, and powered through usb.
13. Optional DC power Power KeyLab mkII without connecting to a computer.
FEATURES
Software Specifications:

Includes Analog Lab software with 6500 synth sounds
Includes Ableton Live Lite
Includes Piano V

Hardware Specifications:

61 key options available, each with high quality keybed with velocity and aftertouch
16 RGB-backlit performance pads
Control bank with 9 faders and 9 rotary knobs
Control modular equipment with 4 CV/Gate outputs, controlling pitch, gate, and modulation

Seamless integration with all Arturia software instruments
Presets for multiple DAWs, with magnetic overlays for controls
Huge connectivity, including expression, sustain, CV/Gate, MIDI, USB and 3 assignable auxiliary pedal inputs
Perfect Analog Lab integration:

Select sounds, browse presets, switch parts, smart-assigned controls.
Standalone or plug-in operation: VST, VST3, AU, AAX.
Over 6500 TAE® powered preset sounds from Arturia's award-winning V Collection
Select sounds, browse presets, switch parts, smart-assigned controls.
Standalone or plug-in operation: VST, VST3, AU, AAX.
Over 6500 TAE® powered preset sounds from Arturia's award-winning V Collection

Ableton Live Lite – record, layer, and edit your sounds to create a finished song.
Piano V – Twelve different world-class pianos meticulously crafted using our critically acclaimed modeling technology.
Compatible with all major Digital Audio Workstation: Pro Tools, Logic Pro X, FL Studio, Bitwig, Cubase, Ableton Live, Digital Performer, Studio One *