THE LEGENDARY PERCUSSION PAD, UPDATED FOR MODERN PERFORMANCES
Introduced over 20 years ago, the SPD-20 is still treasured by percussionists around the world for its wide-ranging versatility and authentic percussion sounds. Filled with user-requested features and the latest Roland percussion technologies, the OCTAPAD SPD-20 PRO takes performance to the next level while fully retaining the core appeal of the classic SPD-20.
The OCTAPAD SPD-20 PRO offers the famous eight-pad layout, legendary sounds, and rugged durability of the original SPD-20, newly enhanced with more responsive playability, additional sounds and functions, and an updated user interface. Compact and portable, the OCTAPAD SPD-20 PRO delivers everything you need to authentically cover percussion in all music genres and settings, from small groups to large-scale ensembles.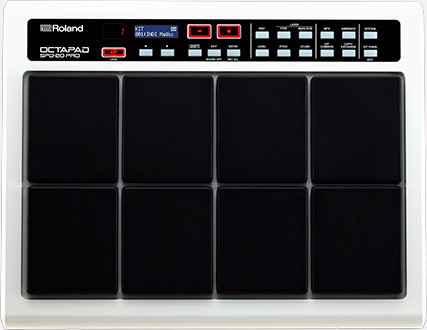 The original SPD-20 sound set, augmented with all-new percussion sounds for a wider sonic palette

Includes a broad selection of world percussion, with more than 900 instruments to choose from

200 customizable percussion kits, including 100 ready-to-play presets

Eight cushioned rubber pads provide even and accurate triggering, improved dynamic response, and excellent isolation between pads

Four external dual-trigger inputs and a dedicated hi-hat control input allow connection of additional pads and pedals, including a kick pad and hi-hat controller pedal to create a mini drum kit

Dedicated buttons for adjusting sound-editing parameters while performing

LCD + LED screens with backlights for easy visibility on dark stages

USB memory port for backing up settings and kit data

Designed in Japan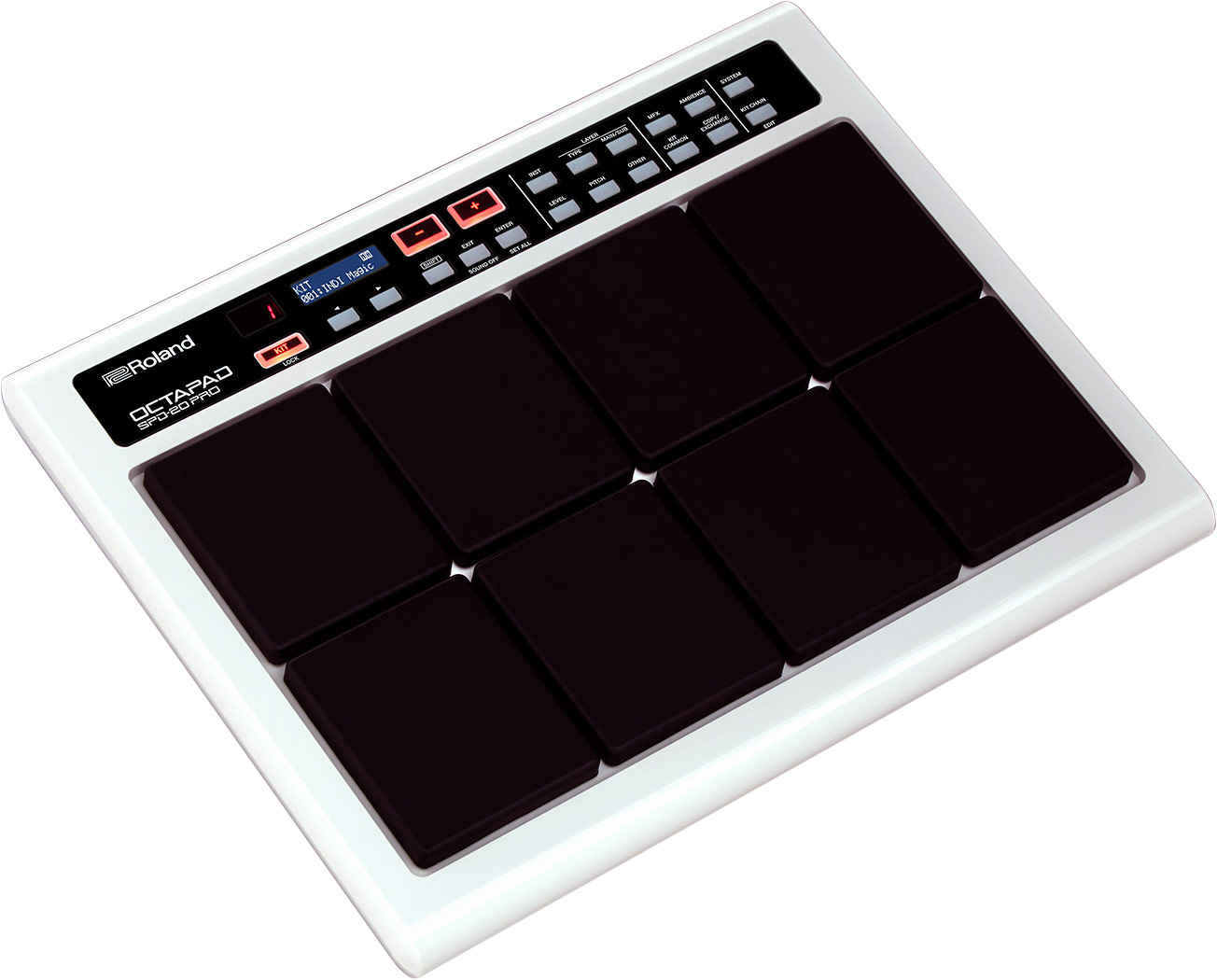 Classic SPD-20 Sounds—and More

The SPD-20 has been embraced by thousands of players as a primary instrument, and they rely on its versatile sound set for performing every day. The OCTAPAD SPD-20 PRO retains every sound from the original percussion pad while also providing an impressive selection of new ones to choose from. In addition, EQ, compression, and three onboard effects engines—each with 38 multi-effects types—can be applied to a single instrument, further broadening the sonic possibilities.
Authentic Sounds from Around the World

The OCTAPAD SPD-20 PRO's new sounds give players what they need to meet today's diverse live performance and studio production demands. Sampled in the highest quality, these premium sounds allow percussionists to authentically cover Asian, African, Latin, and many other world music styles. Traditional drum kit sounds are also on tap, including high-end acoustic drums and cymbals originally developed for the TD-27 V-Drums sound module. In total, more than 900 instruments are available for musical exploration.

Real-Time Sound Editing for Expressive Performances

The OCTAPAD SPD-20 PRO comes with 100 great-sounding preset kits that are ready to play. But you also have the ability to customize them to perfectly fit your personal style and the music you're playing. The backlit LCD and direct-access buttons support real-time editing of instrument sounds as you perform, and up to four sounds can be layered on any one pad using the pad link function to create exciting new tones and textures. Additionally, the kit chain function lets you line up kits to match your set list, making it easy to call up the exact one you need during a performance.

Expand Beyond the Built-In Pads

To complement its eight sensitive rubber pads, the OCTAPAD SPD-20 PRO features four dual-trigger inputs and a dedicated hi-hat control input. This allows you to build an expanded percussion setup with a variety of optional Roland trigger pads, including mesh-head V-Pads, V-Cymbals, and the BT-1 Bar Trigger Pad. And by connecting a Roland kick pad and hi-hat control pedal, you can transform the OCTAPAD SPD-20 PRO into a powerhouse mini drum kit with rock-solid feel and continuous open/closed hi-hat sounds.

Legendary Roland Quality

Roland instruments are renowned for their durability and longevity, and this percussion pad is no exception. Designed in Japan, the briefcase-size OCTAPAD SPD-20 PRO gives you all the sounds you need in one dependable, road-ready instrument.

Made in Malaysia