Tama CL52KRSP Super Star Classic 5 PCS Drum Set Overview:
Tama began producing drums in 1965 under the name "Star Drums", and the name Star is still used for Tama's drum models to this day. Tama was one of the first manufacturers to offer ultra-strong hardware, and a drum mounting system that didn't intrude on the drum housing. Tama's drums and hardware are world famous among other popular brands. The basic Tama Rhythm Mate drum set represents a change in the design of the typical drum kit. Offers precise brace angles for easy fine-tuning that beginners need, and a wide adjustment range to meet the needs of even professionals. The bass drum's Accu-Tune strut provides firmer, faster tuning than traditional metal struts. Rhythm Mate drum shell is made from 6 layers of natural poplar wood, famous for its excellent tone and fast decay, same outer shell. All hardware features double kickstands for added stability, and the drums have a full set of cymbals.
Configuration:
| Description | Q'ty |
| --- | --- |
| 22″x18″ Bass Drum | 1 |
| 10″x8″ Tom Tom | 1 |
| 12″x9″ Tom Tom | 1 |
| 16″x14″ Floor Tom | 1 |
| 14″x6.5″ Snare Drum | 1 |
| MTH600 Double Tom Holder | 1 |
 
Exotic Finishes
Tom Tom, Floor Tom & Snare Drum : 4ply Maple + 2 outer ply Lacebark Pine, 5mm
Bass Drum : 6ply Maple + 2 outer ply Lacebark Pime, 7mm
-Lacquer and Unicolor Wrap Finishes
Tom Tom, Floor Tom & Snare Drum : 6ply, 5mm
Bass Drum : 8ply, 7mm
Our highest priority in producing the Superstar series of drums was sound. The full, powerful character and rich resonance of the Superstar drums were achieved by utilizing carefully selected maple shells and focusing intently on shell molding and the bearing edge shape.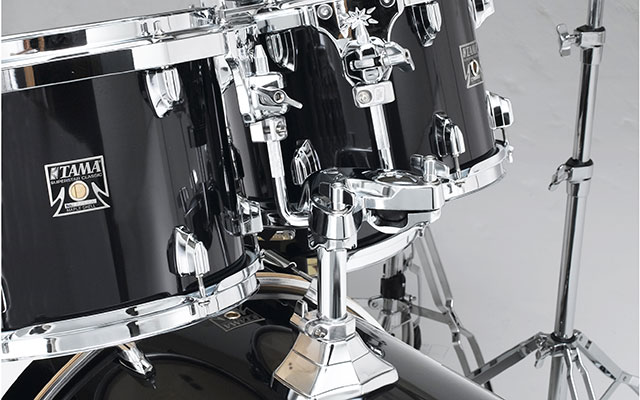 TAMA L-Rod and Omnisphere tom holder systems have received acclaim from drummers for over 25 years. These systems offer easy positioning, maximum flexibility, stability and greater sound than standard designs which penetrate the shell interior and can inhibit resonance.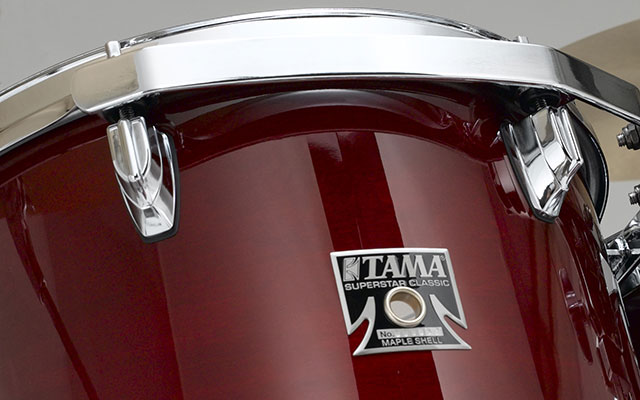 These small lugs are newly designed separate lugs for the Superstar Classic series. By reducing the surface area that the lugs occupy on the shell, a structure that does not hinder shell resonance is achieved.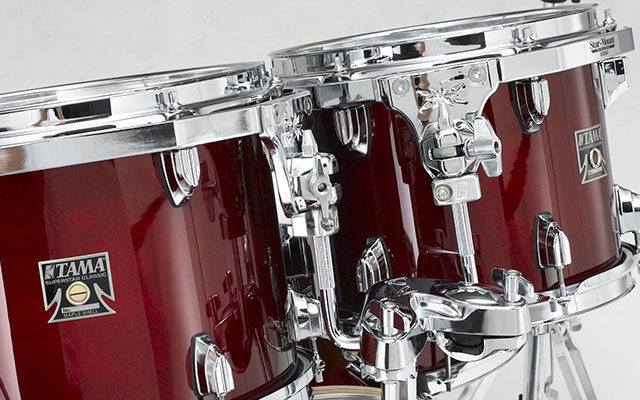 The Star-Mount System was developed to increase the resonance of drums. This new mounting system provides support at four points on the batter side hoop of a drum.
The bracket eye-bolts slide to the left and right, so it's possible to prevent the eye-bolts from touching each other even when setting up two toms close to each other.