BEAUTIFUL, POWERFUL SOUND SAMPLED FROM THE ACCLAIMED YAMAHA CFX CONCERT GRAND PIANO
The YDP-165 features a piano Voice sampled from Yamaha's flagship CFX concert grand piano—a renowned piano that delivers sparkling highs and a powerful resonant bass combined in a superbly expressive sound.
The YDP-165 has the same detailed sound—from the lower keys to the higher keys—full of clarity and rich in colorful harmonic content. It gives you extraordinary expressive power and nuance, that authentically responds in your daily practice as well as your most emotion-filled performances.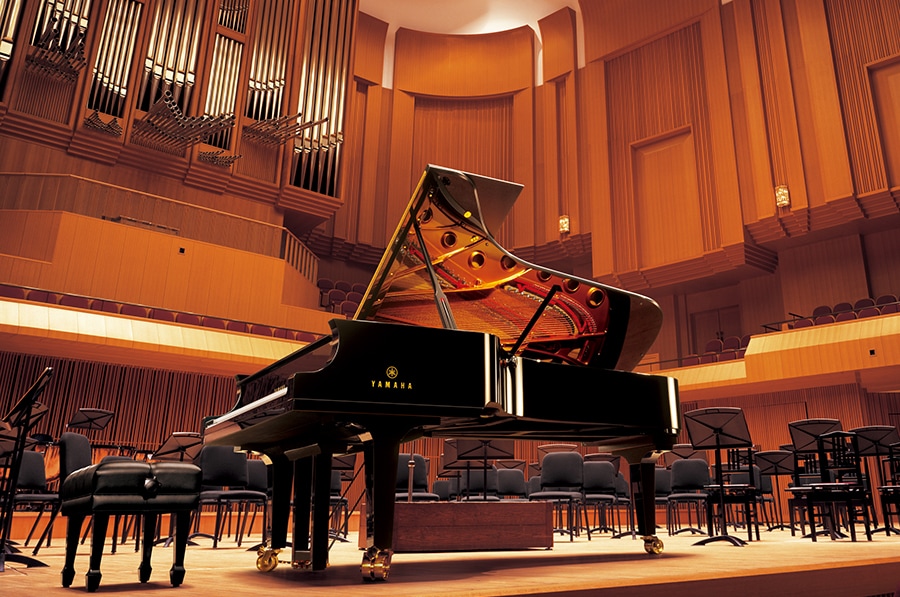 AUTHENTIC ACOUSTIC PIANO PLAYABILITY AND HALF-DAMPER PEDAL CONTROL
With an 88-key piano action, the GH3 (Graded Hammer 3) keyboard reproduces the touch of an acoustic piano, from a naturally heavy feel in the lower key to a lighter touch in the upper octaves. The GH3 keyboard provides a grand piano-style response and feel, allowing rapid note repetition and authentic expressive control. Moreover, there's a half-damper feature that authentically replicates the damper action on a grand piano, providing rich expressive variation.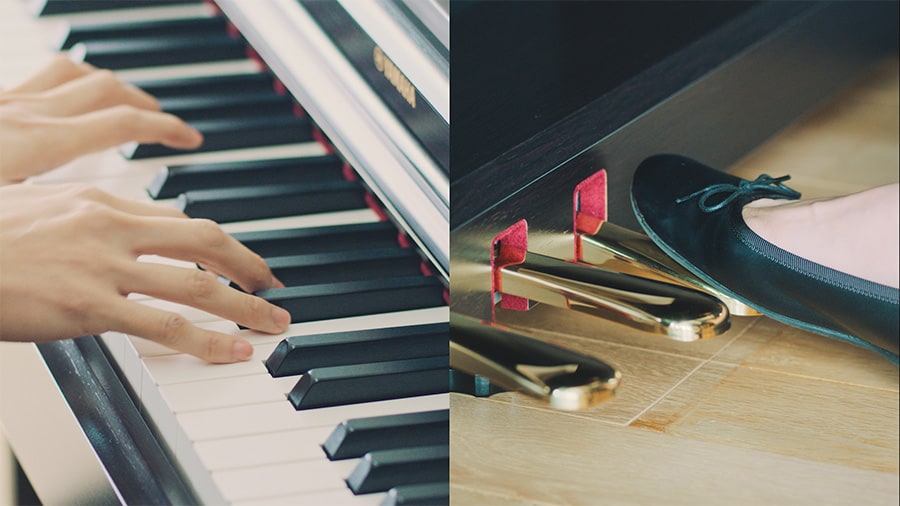 HARMONIC RESONANCE LIKE THAT OF A GRAND PIANO—VIRTUAL RESONANCE MODELING LITE (VRM LITE)
One of the allures of the grand piano is the sympathetic resonance created by the vibration of the entire instrument. The YDP-165 elaborately reproduces this rich sympathetic resonance through a groundbreaking technology called Virtual Resonance Modeling Lite (VRM Lite). VRM Lite creates a richly varied sound by simulating the complex sympathetic tones created when the vibrations of the strings are propagated to the soundboard and other strings, corresponding to the timing and intensity of key playing and pedaling.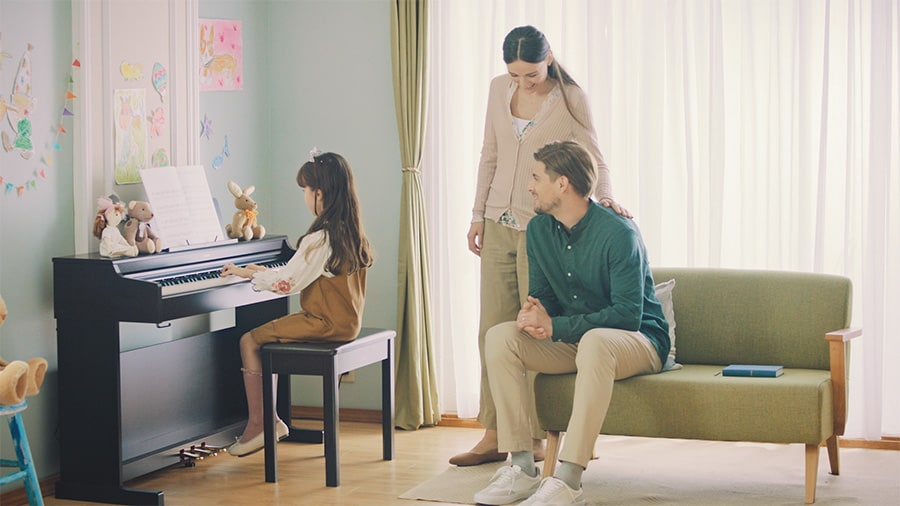 RICH, POWERFUL SOUND PROVIDED BY THE TONE ESCAPEMENT CONSTRUCTION
The YDP-165 uses a newly developed tone escapement construction on the back of the cabinet that emanates sound from inside the piano. This allows you to experience the natural sound radiation and three-dimensional resonance like that of an acoustic piano.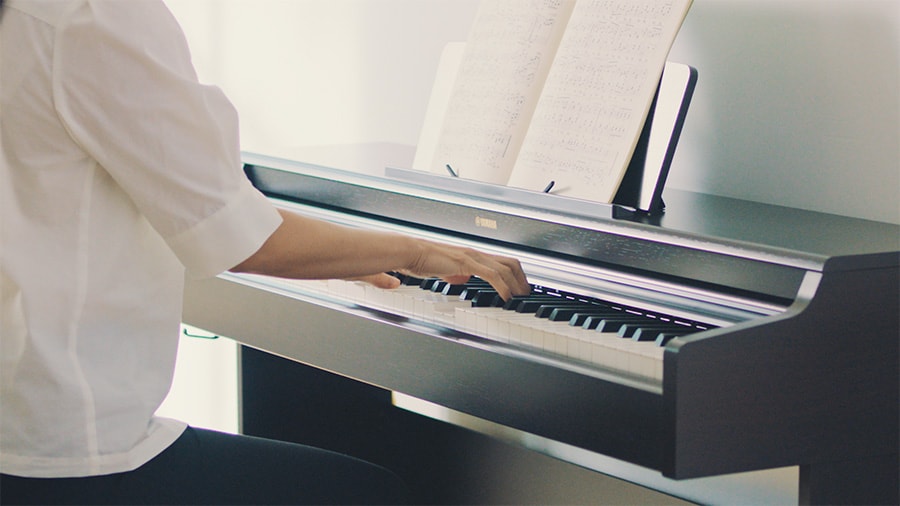 FEATURES FOR GREATER LISTENING COMFORT WHEN USING HEADPHONES
The YDP-165 employs new technology that corrects the sound balance optimally according to the volume you set—giving you an exceptionally natural sound that's easy to listen to and is gentle on the ears, even when playing for a long time.
It also has Stereophonic Optimizer effect that lets you enjoy the natural, spacious sound you experience sitting in front of an acoustic grand piano, even when wearing headphones.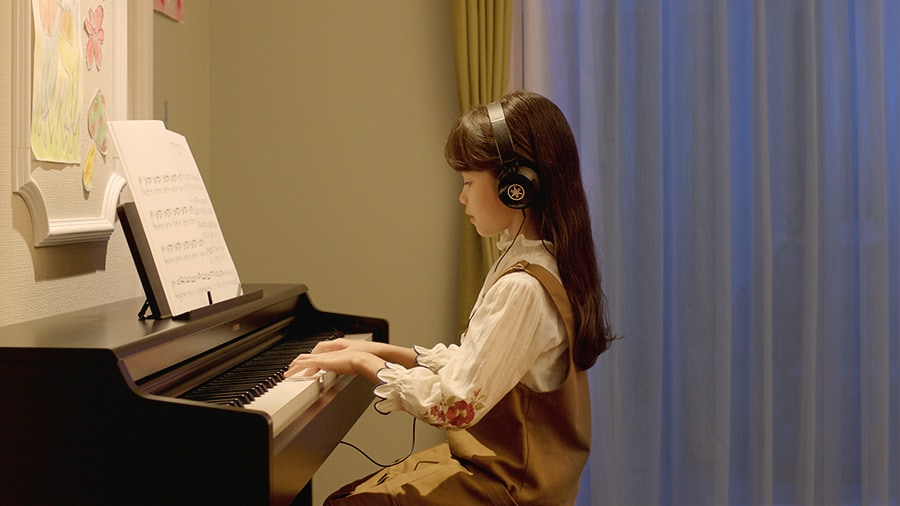 STYLISH DESIGN MATCHES YOUR ROOM INTERIOR
While based primarily on straight lines, it has a stylish design that incorporates elegant curves that are typical of a grand piano. Moreover, you can choose from a variety of color variations the one you like to suit your interior and personal taste